Let's take a walk around the Castle with a foreign language guide and the Castle staff. The guide will show you the best view of Himeji Castle.
"I want to see the Japanese Castle"
"For a preview of my next visit to Himeji Castle"
"For an event to share with my family"
Feel free to enjoy it.
If you have any questions, the guide will answer them, on the spot.
If you are impressed by the scenery, please say "Wow!" in a loud voice.
We are looking forward to your participation.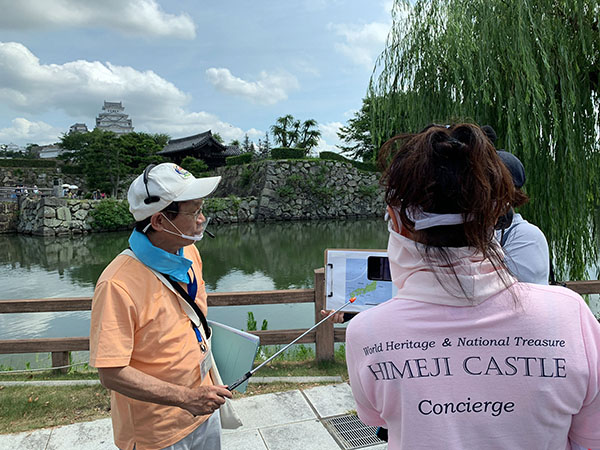 Virtual Tour

"Let's meet up on ZOOM!"
We'll send you the room address from the Google Form, so please access it on that day. We plan to hold this tour twice a month, but the schedule may change without notice due to the infection status of Covid-19 and stormy weather etc.
Date &amp Time

(※JST(Japan Time))

Janualy 30th(Sun) 10:00

Tour Title: What a lucky castle it is !
Theme: How Himeji Castle has survived to the present day.
Highlights & Point:


・Explore inside the main keep.
・Clarify fortune of this castle which has been kept until today.
・Enjoy a spectacular view from the top of the castle.

Guide: Yoriko
Janualy 30th(Sun) 15:00

Tour Title: Walk inside Himeji castle
Theme: Main tower and small towers
Highlights & Point:


・Wooden structures keeping original shapes which were built about 400 years ago.
・Various tricks and traps inside the towers.

Guide: Mr.Gussan
Note

*This tour is for foreign tourists and Japanese who are living or staying abroad.
If you are a Japanese who are living or staying abroad, please select your country of residence in the Nationality column when filling out the application form.
*We plan to have a maximum of 20 accounts.
*If the number of applicants exceeds the capacity, priority will be given to foreign tourists and Japanese living abroad.